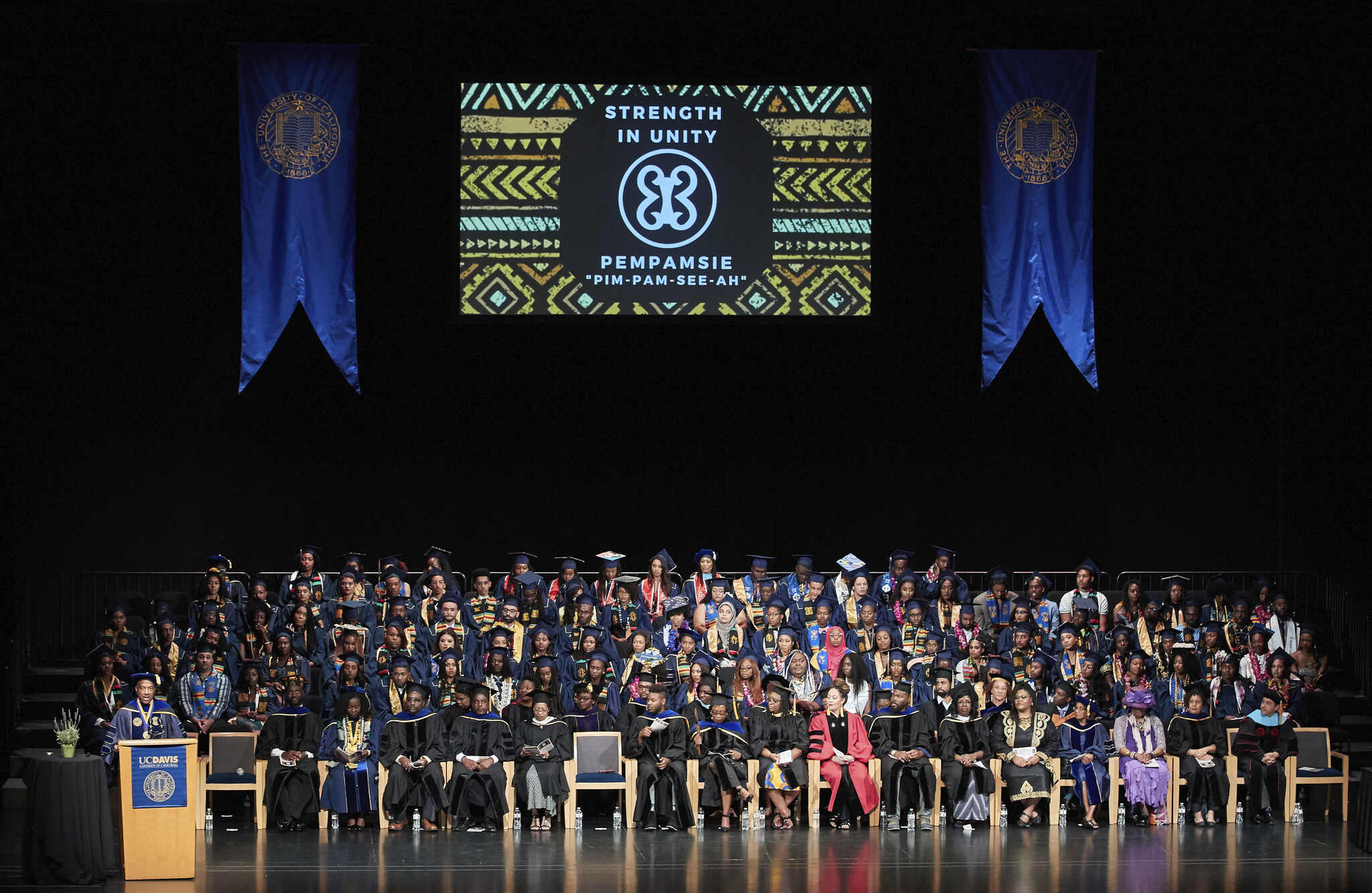 34th Annual Black Graduation 2019
2021 Virtual Black Graduation Celebration
Sunday, June 13, 2021
5:00 PM
Black Graduation is an annual ceremony that commemorates graduating seniors at UC Davis who identify with the African diaspora. This graduation is different from the UC Davis colleges' commencement, as it is a culturally relevant and inclusive ceremony for the Black community. Black Graduation serves to highlight and honor our community's graduates and their personal and academic achievements throughout their educational careers.
This annual celebration does not conflict with the traditional university commencement. The university commencement ceremonies are organized by the individual colleges and schools have limited seating and only provide a certain number of tickets per graduate. Black Graduation does not have a limitation on the number of seats available for your family and friends. We encourage you to participate and attend both events.
Eligibility
Any UC Davis undergraduate, graduate or professional student earning a degree from fall 2020 through fall 2021 awarded by the University of California, Davis, is eligible to participate in the 2021 Black Graduation Celebration.
Submit Registration Form to Participate
Participants will need to fill out the Black Graduation registration form.
Contact Dionica Bell to RSVP.
Please note, it is FREE to participate in the celebration, but there may be additional fees if you wish to purchase items (Graduation Box).
Graduation Regalia
Please note that all participants are required to wear graduation regalia (i.e., cap and gown), which can be rented through the UC Davis Stores and worn for both Commencement and Black Graduation Celebration activities.
Kente Scarf/Stole
A distinctive element of the celebration is the West African kente scarf/stole that adorns the graduation regalia. Good news—the celebration will offer these specialized kente cloths for FREE this year to all participants. There are a limited number of patterns to choose from and they will be given out to all participants prior to the celebration.
Participate in Graduation Planning
Spring quarter meeting dates will be scheduled and listed below for interested parties to help plan Black Graduation Celebration. Meetings are located at the at Center for African Diaspora Student Success.
Black Graduation Planning Night, April 16th and 30th